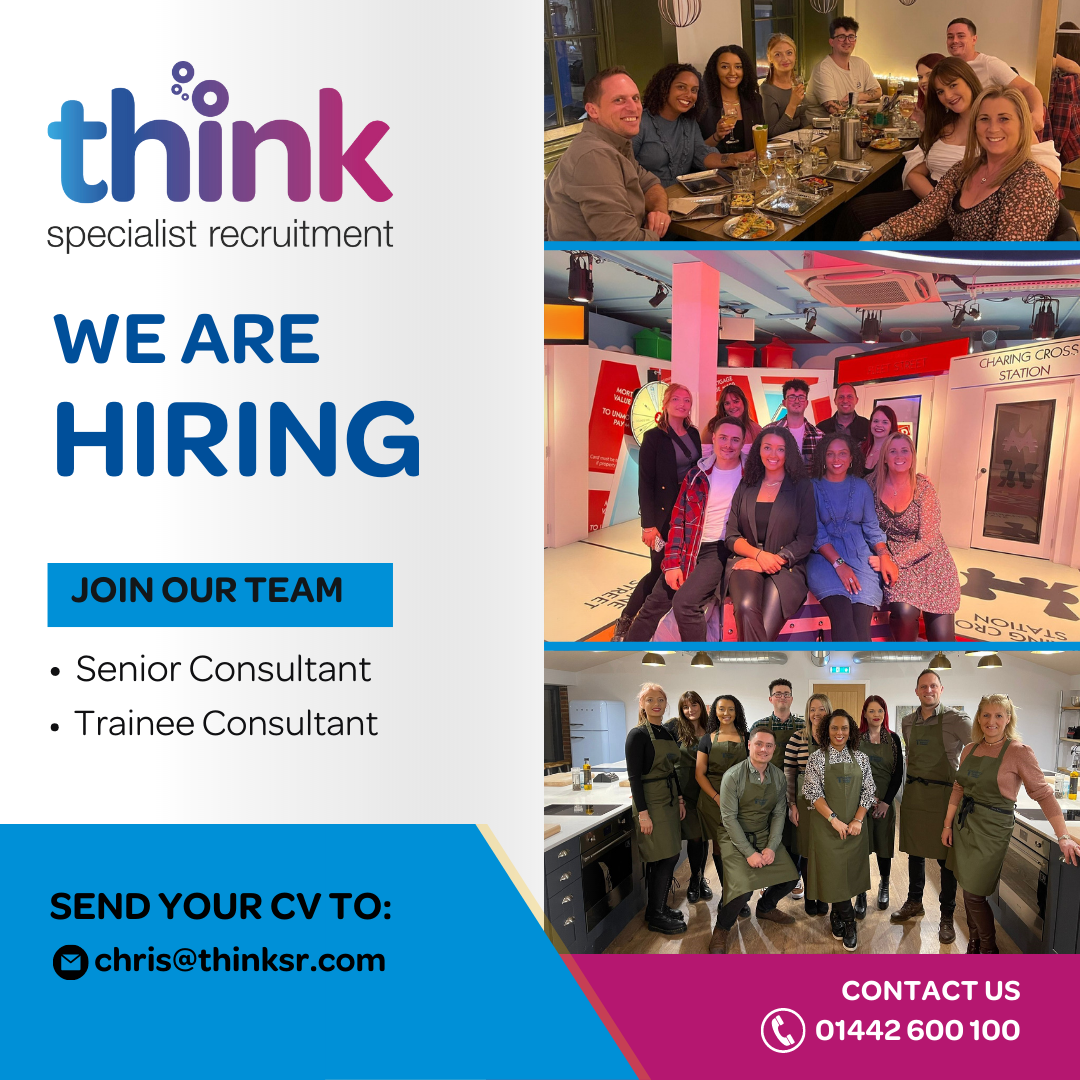 We're a close-knit group of recruitment professionals that make up the team here at Think.
We pay our Recruiters a fantastic monthly commission structure and a reward menu which includes options from an annual bonus, extra annual leave (30+ days plus bank hols), monthly vouchers, quarterly bonus and more. We also run great quarterly incentives for the whole team.

We offer flexibility around working days/hours and the ability for work to fit around family/kids/pets/out of work commitments.

We never ask our team to use annual leave to attend doctors, dentist or vets appointments, attend sports days or parents evenings!

We have a proven track record in training Consultants with little to no experience to become high billers, and providing more experienced Recruiters with the platform to build a successful desk!

What we ask for in return is hard work, dedication and the ability to demonstrate our 3 core values:

- Building long-term relationships ✅
- Striving for excellence ✅
- Being accountable ✅


⭐Role 1 - Trainee Consultant⭐
An entry level role suitable for a graduate or somebody with some previous customer service, sales or account management experience. You would be enrolled in our training scheme to learn all aspects of a Recruitment role, with full support and guidance from our experienced team. No experience required, just bags of enthusiasm, energy, competitiveness and ambition!
Link to role profile: ➡️https://lnkd.in/eg56bX93


⭐Role 2 - Recruitment Consultant/Senior Consultant⭐
We are keen to hear from any experienced Recruiters with 12+ months of recruitment experience who can bring a proven track record of successfully filling vacancies, generating clients and candidates, building a presence in a their target marketplace. Our management team would support your continued recruitment journey and provide all of the tools and resources to be a huge success. Bags of enthusiasm, ambition and energy still required!
Link to role profile: ➡️https://lnkd.in/eBn3Axfp


If this resonates with you or you know somebody who might enjoy working for our friendly, service-focused and highly professional team, please email me on [email protected] or apply via the links above.
Share