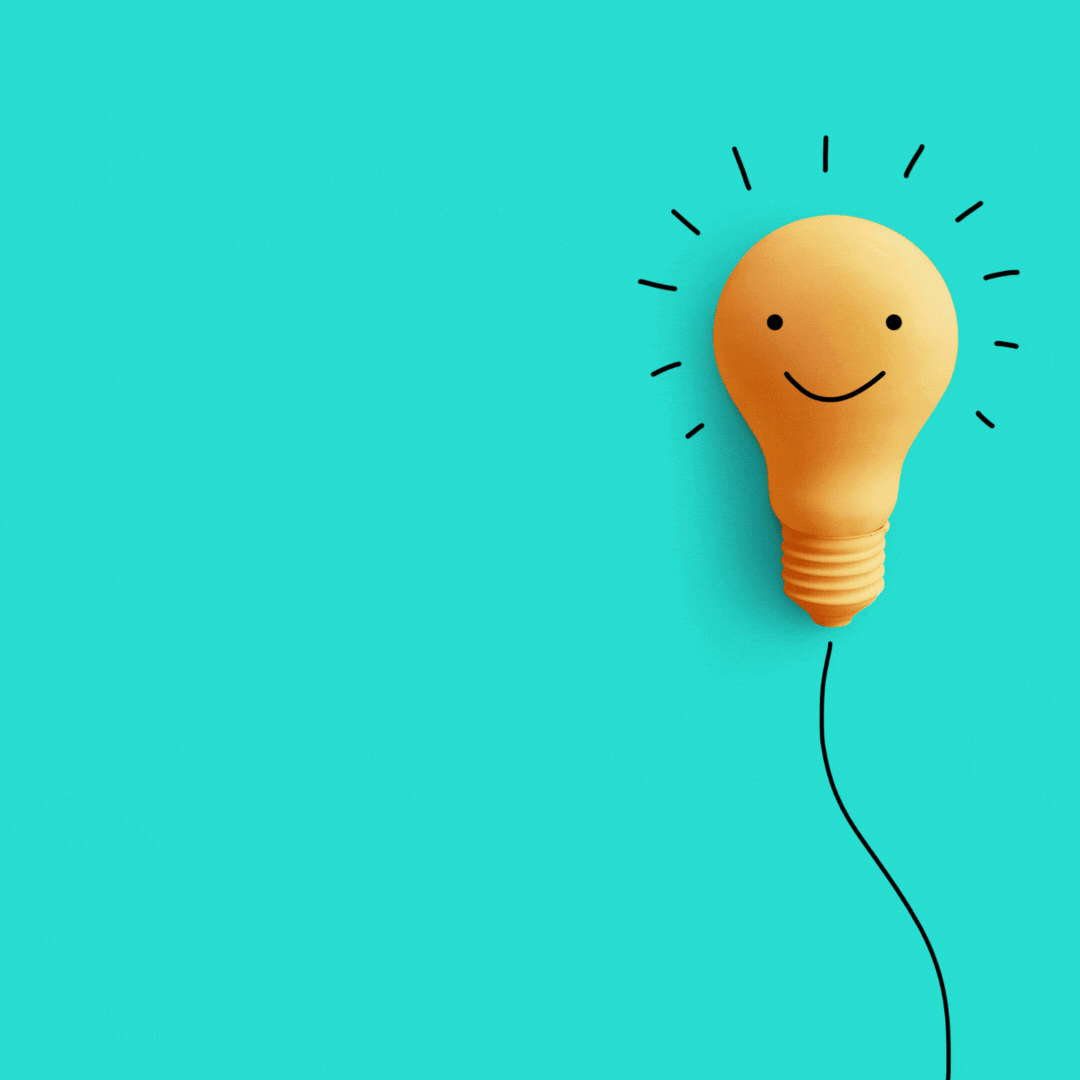 Two of our newest team members have moved up the ranks, so we are on the look out for the new Izzy or Sophie! Both have progressed their careers from starting with us without a specific recruitment background, doing brilliantly at the entry level Resourcer role, now both onto Consultant roles. We asked them both to give an account of how they feel it's gone so anyone thinking of applying and trying a career in recruitment has an understanding of their early stages with Think!
Izzy Lane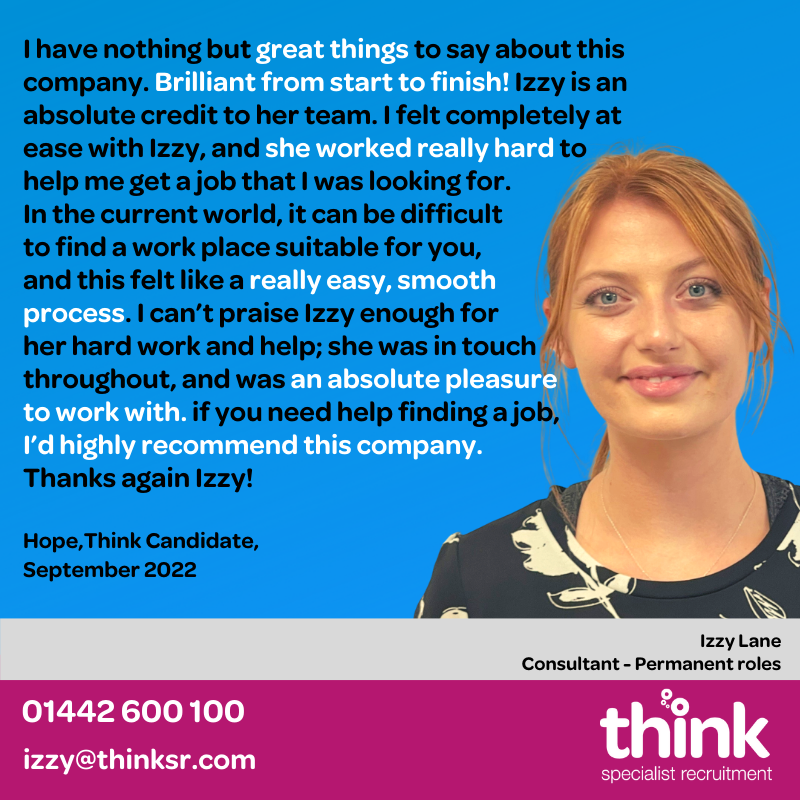 I was always unsure about what career path I wanted to take, I had actually reached out to Think back in 2018 and remembered how great the service was. Fast forward to 2021,I was looking again and reached out to Think immediately. I spoke to Bobby, he asked me if I had ever considered working in recruitment and I have not looked back since!
Just over a year later I am still here and have learnt so much! From starting completely new to the recruitment world I received an unbelievable amount of support and training. Everyone has been so great and the opportunities have been endless. From joining straight away I felt the environment was fantastic and it didn't take me long to settle in at all. Everyone made me feel so comfortable and the support I received has been amazing. Once I had settled as a Resourcer I was then given a number of options of which path I could take next. From this I was given the fantastic opportunity to take on the Hemel desk as a permanent consultant and have loved it so far! It has been a rollercoaster of a year but I can honestly say I couldn't have done it without the support or guidance from my team. Bobby and Chris have both been amazing and so encouraging throughout the journey. They have helped me through all the ups and downs. I am still learning everyday but can't believe how much has changed since I first started! If like me you are unsure of where to go next then I would highly recommend the recruitment world – especially here at Think!
Sophie Ford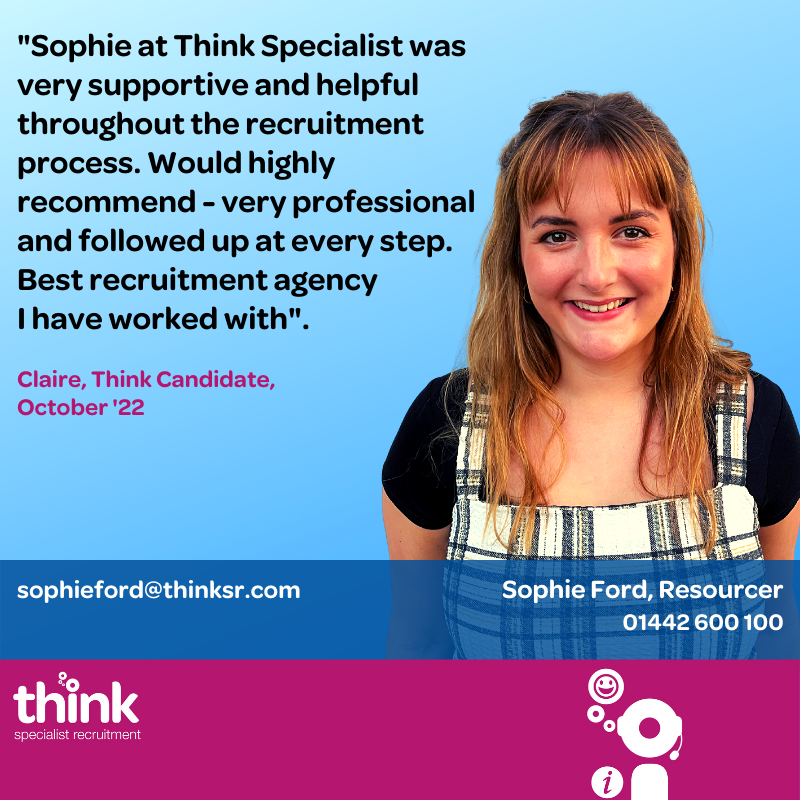 I initially registered with Think as a candidate in 2017 and having registered with multiple agencies at that time looking for temp work, they really stood out to me due to the small personal touches they included within their recruitment process!
I went back to Think in 2018 and met with Bobby who helped me secure a position with a fantastic company. I fitted in here so well and it was exactly how Bobby had described the working environment to be. I ended up staying with this company for 3-4 years and throughout that time, Bobby would check-in to see how I was getting on and showed a genuine interest in my progression with this client.
It eventually came to a point where I felt I couldn't progress any further with this business and I had a friend who had recently started working at Think with no previous Recruitment experience. She was absolutely loving it, so I thought there was no harm in finding out a little more and messaged Bobby about upcoming vacancies.
All of my experience to date was customer facing. I had previously worked within Customer Service, as well as Sales, and moving forward I was just keen to do something where I felt a bigger sense of accomplishment at the end of each day.
After multiple chats with Chris and Bobby, I started out as a Resourcer which really helped me to gain a broad and generalist insight to recruitment and the various sectors we deal with. I have had so much support from the entire team and have absolutely loved working in a close knit office where everyone bounces off each other during the highs, and the lows. I have now been here since July and have loved every second to date! The team at Think are incredible and so welcoming. I definitely feel at home already after only a short 4 months and have just managed to secure my own desk recruiting predominantly for lower level HR roles. So glad I took the leap into something new and very grateful to have a Manager who has trusted and challenged me along the process 😊
If you think you'd be interested in a career in recruitment, and would like to find out more about us, have a look at our Work for us section on our website, or email Chris [email protected] for further information.
Share