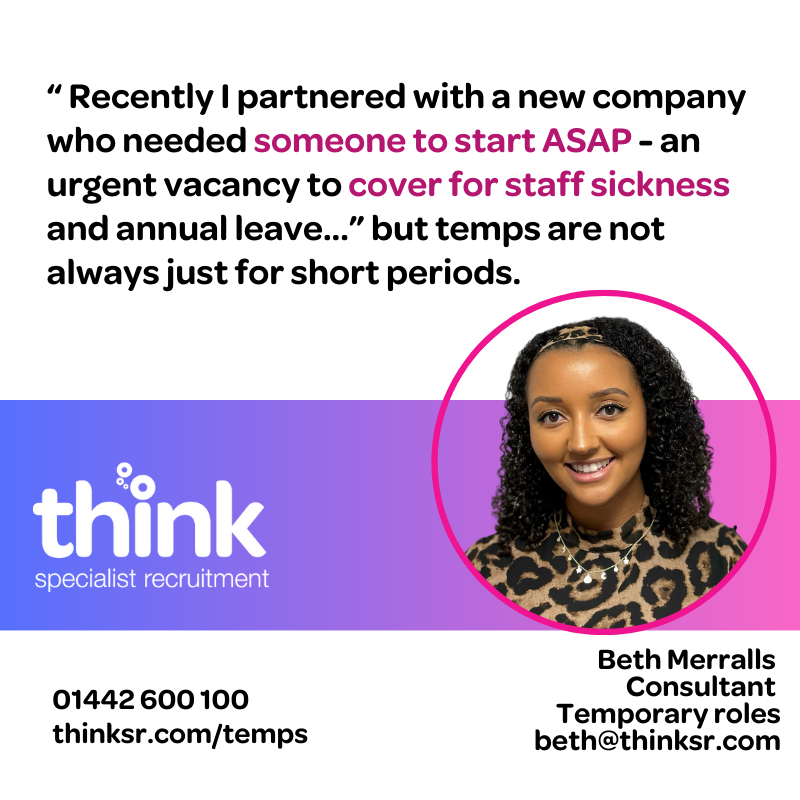 Temporary services offer flexible staffing solutions.
Permanent recruitment is usually the preferred method of recruitment but demand for temporary services at ThinkSR is busier than ever.
Why is this?
We offer a quick solution to a short-term problem:
A temp desk is always exciting as you just don't know what is round the corner. Recently I partnered with a new company who needed someone to start ASAP in their Procurement team for 6 weeks. This was an urgent vacancy to cover for staff sickness and annual leave. I went and visited the company straight away to get a feel for the business and had a candidate booked in for interview the next day. We managed to get a suitable candidate started quicker than initially planned and it is going smoothly so far.
We offer a long-term solution to a hiring freeze:
Temps are not just for short periods. My longest temp has been temping in the same role since 2020! One of our strengths is finding dedicated temps who will see their assignments through. But some assignments do not have an end date and are in replacement of a permanent position due to a hiring freeze.
We can support you to work out what the team needs:
Sometimes you know you need an additional member of the team, but you aren't quite sure just how this role will sit. Temps are a great and flexible solution to get someone started, trial the role and re-asses later. If it's working well – let's temp-to-perm! If the role needs a different level of experience – let's re-asses the requirements.
But ultimately, we offer a reliable and speedy service:
We pride ourselves on building long relationships with both our candidates and our clients. Once a temporary assignment begins it is not the end. We have regular catchups with both our current temps and the clients they are temping with; this means we can be aware of any changes in circumstances, iron out any issues and ultimately ensure the service we provide remains great.
If you need a temp to join the team, why not give us a try? Find out more here or contact beth: [email protected]
Share