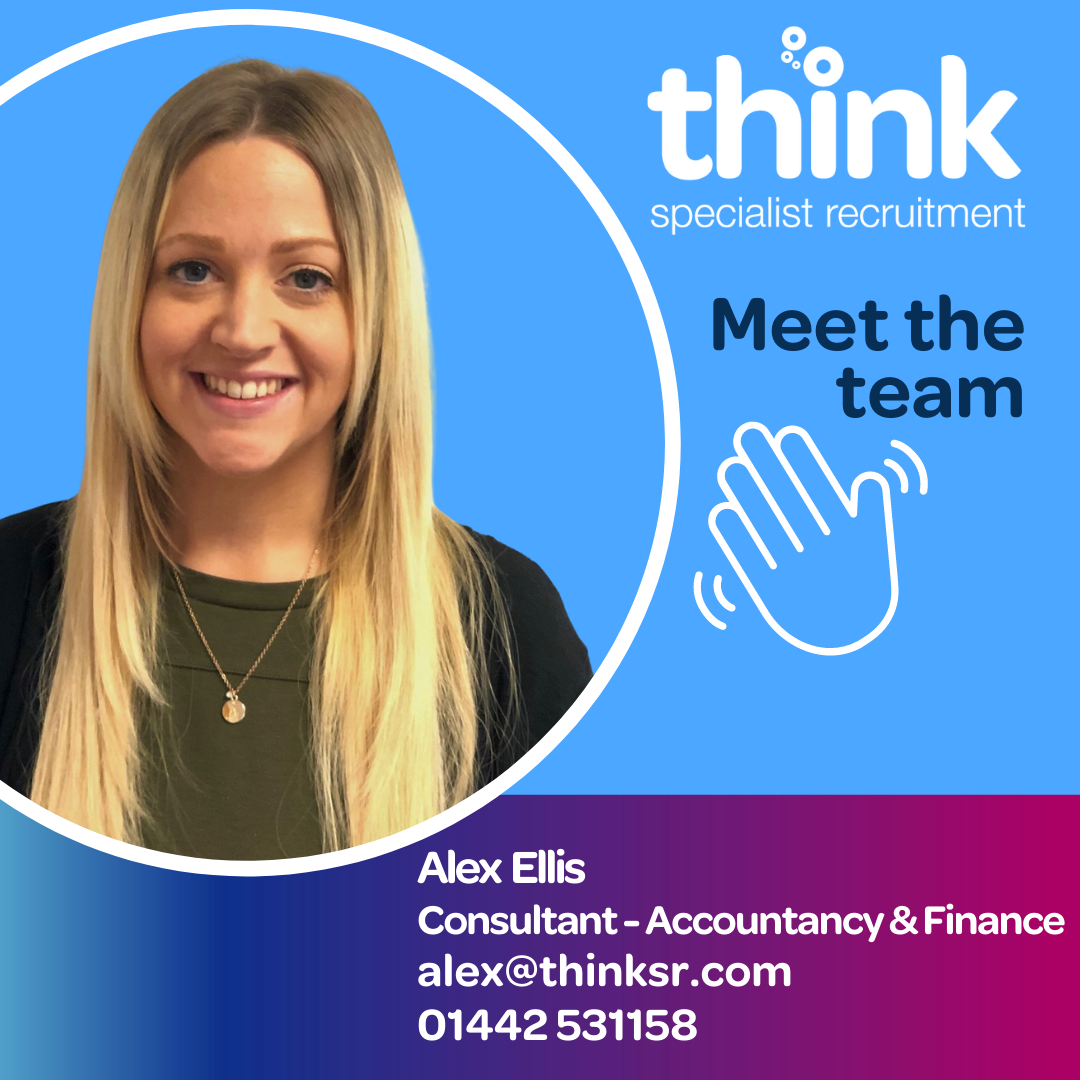 For the fourth week of our 'Meet the Team' series of blogs, we have Alex Ellis, our Consultant for our Accountancy and Finance division.
Alex is one of the longest serving members of the team and has been with us for over 6 years! She has worked across a number of divisions and looked after both permanent and temporary roles. After taking maternity leave to have her little girl, she returned, keen to add a new string to her bow and has been working in our Specialist Accountancy & Finance division since.
What area of the business do you work in?
I'm a Consultant within the Accountancy & Finance division looking after both temporary and permanent opportunities.
Is there good career progression at Think?
Yes, I believe there is. I started as a key member of the team rolling out our temporary division. Then I progressed to Team Leader working alongside Bobby covering all areas of the country. I returned from my maternity leave and took on a new challenge which has really broadened my expertise. Working on the Accountancy & Finance team, I feel like I'm tacking roles that I wouldn't have had the confidence to before. I'm also rebuilding old relationships as well as making new contacts – it is very rewarding!
Why do you like working here?
I genuinely feel like I am working with friends. It's a very strong, collaborative, supportive team. We are in touch all the time and cover for each other really well. Clare is a very supportive leader and understands the challenges of being a working parent, so gives me great advice too!
Every job has highs and lows, so what are the best and worst bits of your job?
The best bits are securing someone the opportunity to build a career – often my placements are at the very beginning and may not have got a chance if we had not supported their journey and found them the right opportunity to grow.
Worst bits are coming up against the negative stereotypes recruiters often face. Sometimes it's very hard to convince people that we are not all the same and the negative experiences they've had are not how we are.
What are your ambitions for future?
Expanding my client base to further the success of the division and making sure Think is top of the list when they need specialist recruitment experience for the Accountancy & Finance sector.
Finally, share a memorable moment from your career to date - a surprise or disaster!
A disastrous series of events followed us securing a massive new contract with a new client. Bobby and I travelled to Milton Keynes and whilst suffering from a very painful wisdom tooth, (and Bobby had just made a full recovered from Shingles) my car practically fell apart on the M1. To top that, Bobby went off to buy me lunch to cheer me up and chose a tuna and coleslaw sandwich – worst choice ever! Fortunately, we managed to go on and supply 64 temps for our client and continued to have a great relationship with them. We have so many stories - that's part of the fun working in a close team who genuinely care about each other.
If you are looking for a role or looking to recruit in the Accountancy & Finance sector, don't hesitate to give Alex a call on 01442 531158 or drop her an email on [email protected] She would love to hear from you.
Share