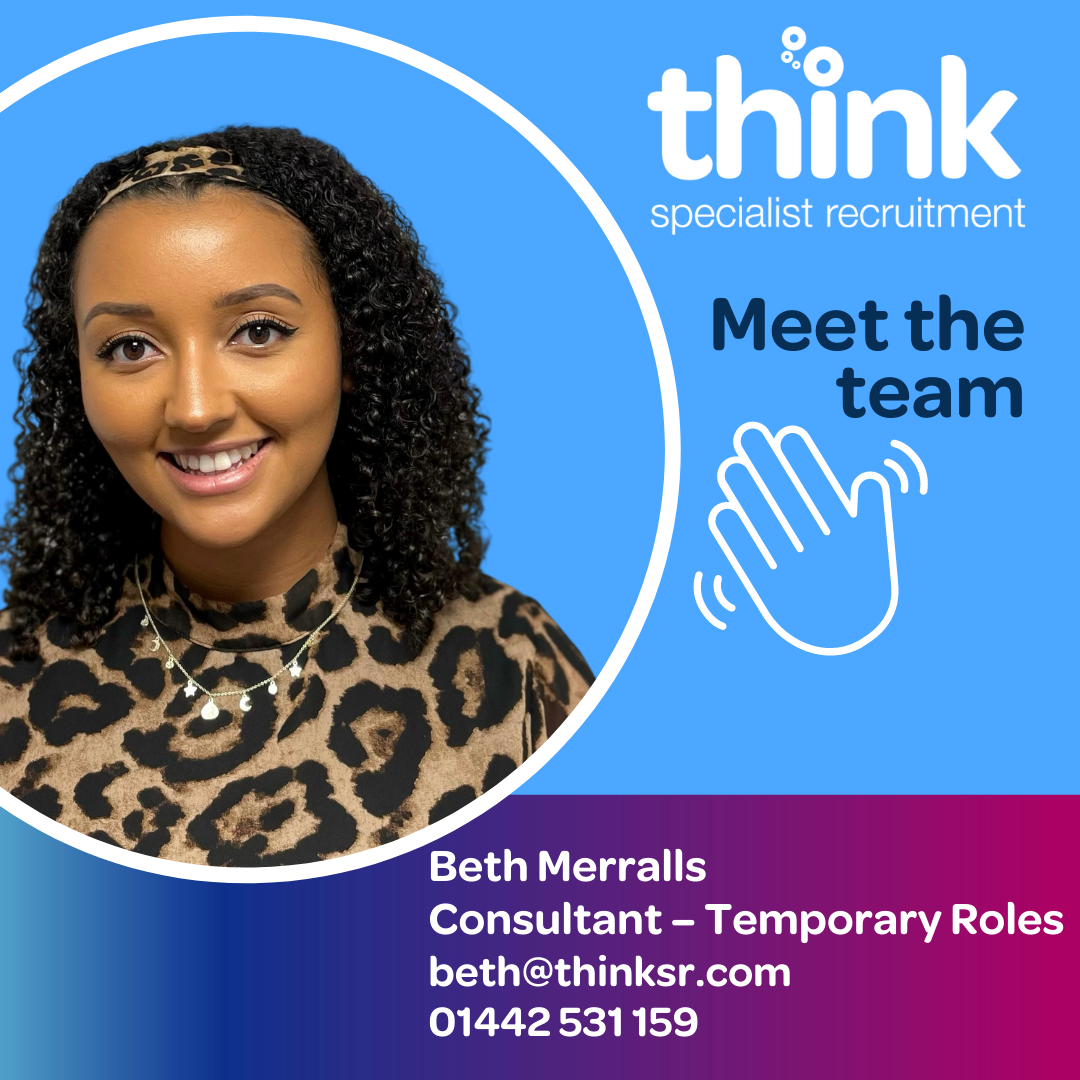 For our third week of our 'Meet the Team' series of blogs, we're hearing from Beth Merralls, our Consultant for Temporary roles.
Beth has been with us for over 2.5 years and is a valued member of our team looking after Temporary roles across our Business Support sector. She's built some fantastic relationships with key clients and great candidates and her feedback on our reviews page is testament to that.
What area of the business do you work in?
Beth: I run the temporary desk for Watford, St Albans and the surrounding areas
Is there good career progression at Think?
Beth: Yes, I started at Think December 2019 as a resourser and was promoted to a consultant within 6 months. Since I have been here I have seen two consultants progress into senior positions; Bobby became Business Manager and Sophie has become a Senior Consultant.
Why do you like working here?
Beth: Chris has worked hard to develop a great culture within the office. We have a brilliant team who work collaboratively, a great reputation as a business and fantastic clients too. We are rewarded for our achievements both individually and as a team. Our hard work is recognised and when work is hard, we have the support around us.
Every job has highs and lows, so what are the best and worst bits of your job?
Beth: The best part is working with people! We work hard to build strong relationships with clients and candidates; so it is great when we place candidates with clients and hear positive feedback on how their role is going! But because of these relationships we build the worst part is giving bad news. We work hard to build relationships with everyone we work with; it never gets any easier having to give bad news. However, I always say everything happens for a reason so if one interview hasn't been successful it just means there is something more suitable on the way!
What are your ambitions for future?
Beth: To continue to grow and progress with Think and increase the number of businesses I support in the local area. Ultimately, I would like to be the 'go to' person for temporary support in Watford and the surrounding areas.
Finally, share a memorable moment from your career to date - a surprise or disaster!
Beth: During Covid I started working with a new client. Every time I spoke with him on the phone his partner would chat away with us in the background. Fast-forward to April 2022 when their office was open I finally went in to meet him. When I arrived I was warmly greeted by a lady who started talking like we knew each other. She then looked at me and said "you look very confused; you don't know who I am do you? I am 'x's partner! We speak every week! You should know me by now." To which I looked shocked and responded with, "oh my goodness, I didn't realise you worked together, I just thought he just had really nosey partner!" We all burst out laughing and it has been a running joke ever since.
If you are looking for temporary work or are looking for some support for your business using temporary staff, don't hesitate to give Beth a call on 01442 600 100 or drop her an email on [email protected] She would love to hear from you.
Share