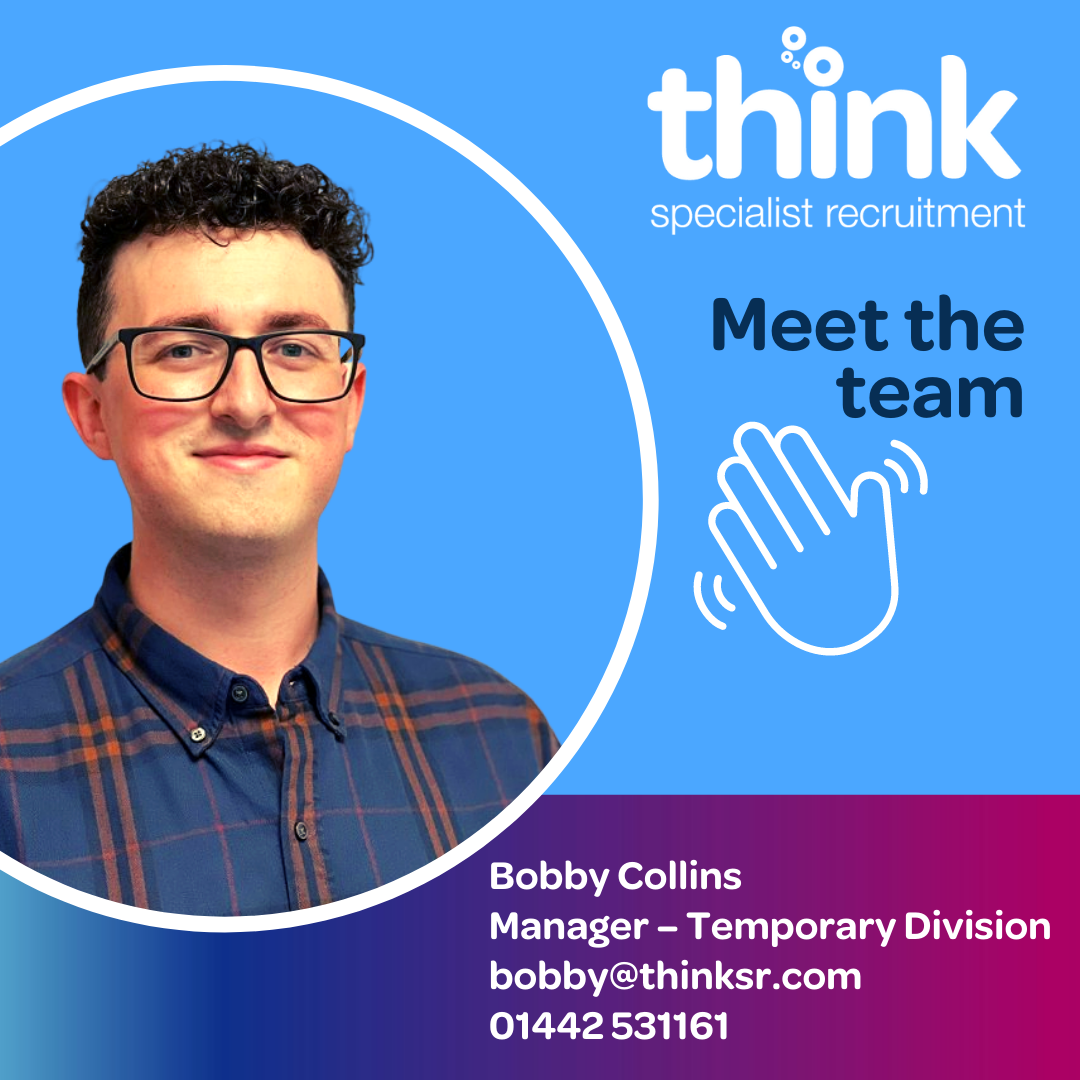 We often receive fantastic feedback from our candidates and clients about individuals in our business, so we thought it would be good to help people get to know us a little better.
We've interviewed each member of our team of consultants, and as part of a series of blogs, will be publishing a weekly 'Meet the Team' post.
First up is our Bobby. He is our Business Manager for our Temporary Division. He oversees all the Temp roles that come under our Business Support area and has been with us for almost 5 years.
Which area of the business do you work in?
Bobby: I look after temporary and contract roles for companies in Hemel Hempstead, Luton and surrounding areas covering all business support roles other than A&F which our specialists would handle.
Is there good career progression at Think?
Bobby: I started off as a Resourcer in 2017 and got a feel for all the different areas, I quickly gravitated towards the temp side of things and stepped up into a full temp consultant role. Since then, I've moved up into a Senior Consultant and last year became a Business Manager. I still run my own temp desk and lead 2 consultants looking after permanent roles across Hemel Hempstead, Luton and some of the surrounding areas.
Why do you like working here?
Bobby: I work with a team of people that are great friends and great colleagues, over the past 5 years I've learnt so much from other people and still feel like I learn every week.
Every job has highs and lows, so what are the best and worst bits of your job?
Bobby: For me, the best bit is all of the relationships I get to build through my job. I try my best to keep in touch with all of my candidates and have been told that sometimes we build more of a friendship; I'm still talking to people I spoke to when I first started. In fact I say this in May 2022 and this month I've spoken to a candidate I spoke to back in 2017. On the flipside of that, the worst part is that because I build these relationships, it makes it that much harder to share any bad news. I wish I could say it doesn't happen, but it's inevitable. And the fact that we do our best to get feedback means we can constructively share something that helps gain respect and builds an even better relationship.
What are your ambitions for future?
Bobby: I want to keep working with local businesses, providing the best service they can find and remain as one of the top agencies in the area. I also want to help my team get to where they want to be and see the team grow.
Finally, share a memorable moment from your career to date - a surprise or disaster!
Bobby: One that immediately comes to mind is a candidate I sent to a client for an interview and they asked about his hobbies. He said he was into rap music and liked to dabble in it himself too. So the director literally asked him if he got the job if he'd create one for them. He did him one better and on the spot started rapping about the interview, the company and the job. They offered him the position the next day!
If you are looking for temporary work or are looking for some support for your business using temporary staff, don't hesitate to give Bobby a call on 01442 600 100 or drop him an email on [email protected] He would love to hear from you.
Share