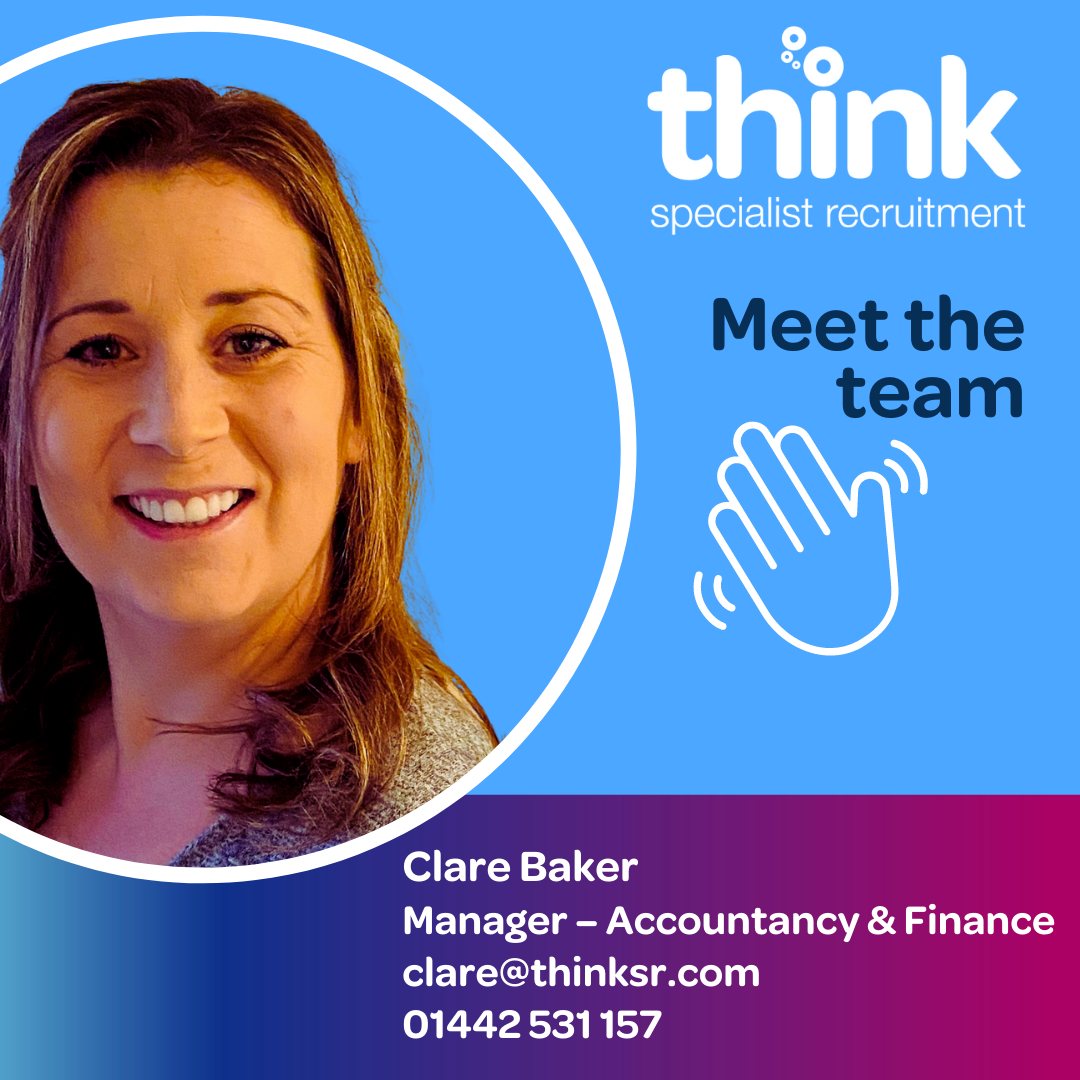 This week, we're continuing our 'Meet the Team' series of blogs with our Accountancy & Finance division Manager, Clare Baker.
The Accountancy and Finance team, headed by Clare, is in its third year and has gone from strength to strength. Set up to manage this specialist sector, Clare joined the team and has used her expertise and experience to build solid, longstanding relationships with clients and candidates and, based on her success, has grown the team by taking on two more consultants - Craig and Alex.
What area of the business do you work in?
Clare: I manage the Accountancy and Finance Division here at Think. I set up the division at the start of 2020 and now we are a team of 3…. for now!
Is there good career progression at Think?
Clare: 100%! I think there is good career progression in any role if you prove yourself and work hard. The difference here is that there is no limit on what you could achieve. Chris is open and approachable and wants people to come to him with their ambitions, and then works out how they can achieve them with clear goals and continued support!
Why do you like working here?
Clare: It is a role that I never knew I wanted, but the role I couldn't be without. I am surrounded by people that are not only colleagues, but friends. We pick each other up and celebrate when someone does well! We laugh hard and work hard – the perfect balance.
Every job has highs and lows, so what are the best and worst bits of your job?
Clare: How do I not sound too corny?! My worst bits are when I feel like I have not done my best. I of course want to fill all positions but in reality, this is not possible but I hate getting things wrong! My best bit is when I work with a client who values my opinion, trusts my judgement, and looks beyond the words written on a CV. I love placing someone into a role that they want and seeing them grow and progess in it.
What are your ambitions for future?
Clare: I want to keep building my team and get them achieving their individual goals as well as our team vision. I want to continue fee earning, but equally would like to be more strategic in the business. I would love to personally develop my position in Think and help the business go from Good to Great in all areas!
Finally, share a memorable moment from your career to date - anything that you still think about!
Clare: When I worked in Apprenticeships it was my job to place people in their first accounts job. My second ever apprentice I placed is now qualified and managing a team! He even used me for recruitment, and the person I placed him with is still a very close client who also comes to me for recruitment! I love seeing the journey candidates go on and then even better when they become a client in the future! Long term relationships is the key for any successful recruiter.
If you are looking for a specialist recruiter for the Accountancy and Finance sector or looking for work in this sector, don't hesitate to give Clare a call on 01442 600 100 or drop her an email on[email protected] She would love to hear from you.
Share