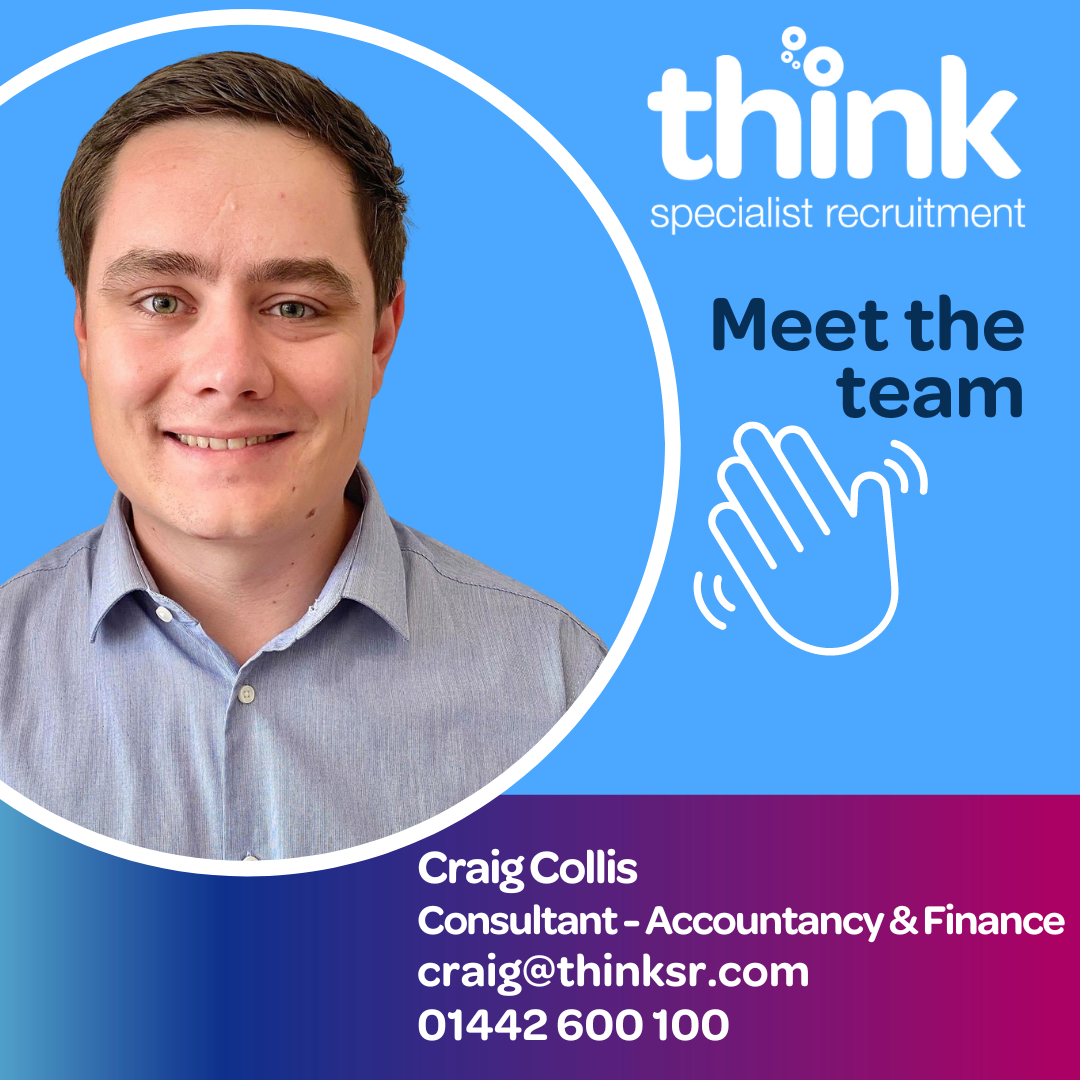 Week 6 already of our 'Meet the Team' series of blogs! Craig is in this weeks hot seat, a consultant in our Accountancy and Finance division.
Craig is coming up for 2 years with us. Having worked in recruitment previously, he mostly looks after temporary roles here, but has experience recruiting for both temporary and permanent roles. A valued member of the team, he's build some strong client and candidate relationships and supported in the strength of our growing Accountancy and Finance team. He also adds to the list of football teams supported in the office. He's a Barnet Supporter and Chelsea follower (to avoid the title of "glory hunter") and in the summer he is an avid Cricketer.
What area of the business do you work in?
I work in the Accountancy & Finance division, covering transactional roles, temporary or permanent across Hemel Hempstead and Luton
Is there good career progression at Think?
For the most part of my career has been specialising on the temporary sector, however over the last few months I have been given the opportunity to take on Permanent opportunities within Finance. It's been great to be able to expand my skillset and focus on a new side to recruitment for me. It's been great too being supported by my manager Clare through this slight change.
Why do you like working here?
The team are great! I know everyone who has done these has said the same, but it really is true. We have a real mix of personalities, ages and experiences yet all get on so well. It's also really nice working for a company that have such a great reputation in the local area. All you need to do is check our Google reviews to see what people think of us!
Every job has highs and lows, so what are the best and toughest part of your job?
Like every consultant will tell you we love finding candidates that perfect next role, there really is no better feeling then being able pass on that offer for that next job. However I also love working finding the perfect candidate for our clients and helping them through whatever need and requirement they may have.
As for the toughest part there is more competition in the market then ever before and making yourself stand out from every other agency and consultant, all of whom for the most part are saying the same thing, is always tough. Building those positive experiences of using us is key, and is what is making us stand out. That positive word of mouth is proving to be our u.s.p. It takes time but we are beginning to reap the rewards, with a record number of candidate referrals over the last couple of months.
What are your ambitions for future?
The Accountancy & Finance division is still one of the newer divisions here at Think and we are very much in the "growth" stage of our progression. I'd love to be in a position where I can look back at my first year and see all the work pay off and see how far we have come.
Finally, share a memorable moment from your career to date - a surprise or disaster!
Over my 7 years in recruitment I have been fortunate enough to work with and place some great candidates, but I am going to be a little biased and say both my sisters were my favourites. They were great and did a top job, always on time, submitted every timesheet when needed, did everything a perfect temp 'should' do, though they must have felt some pressure representing their brother!
If you are looking for a role or looking to recruit in the Accountancy & Finance sector, don't hesitate to give Craig a call on 01442 600 100 or drop him an email on [email protected] - he would love to hear from you.
Share