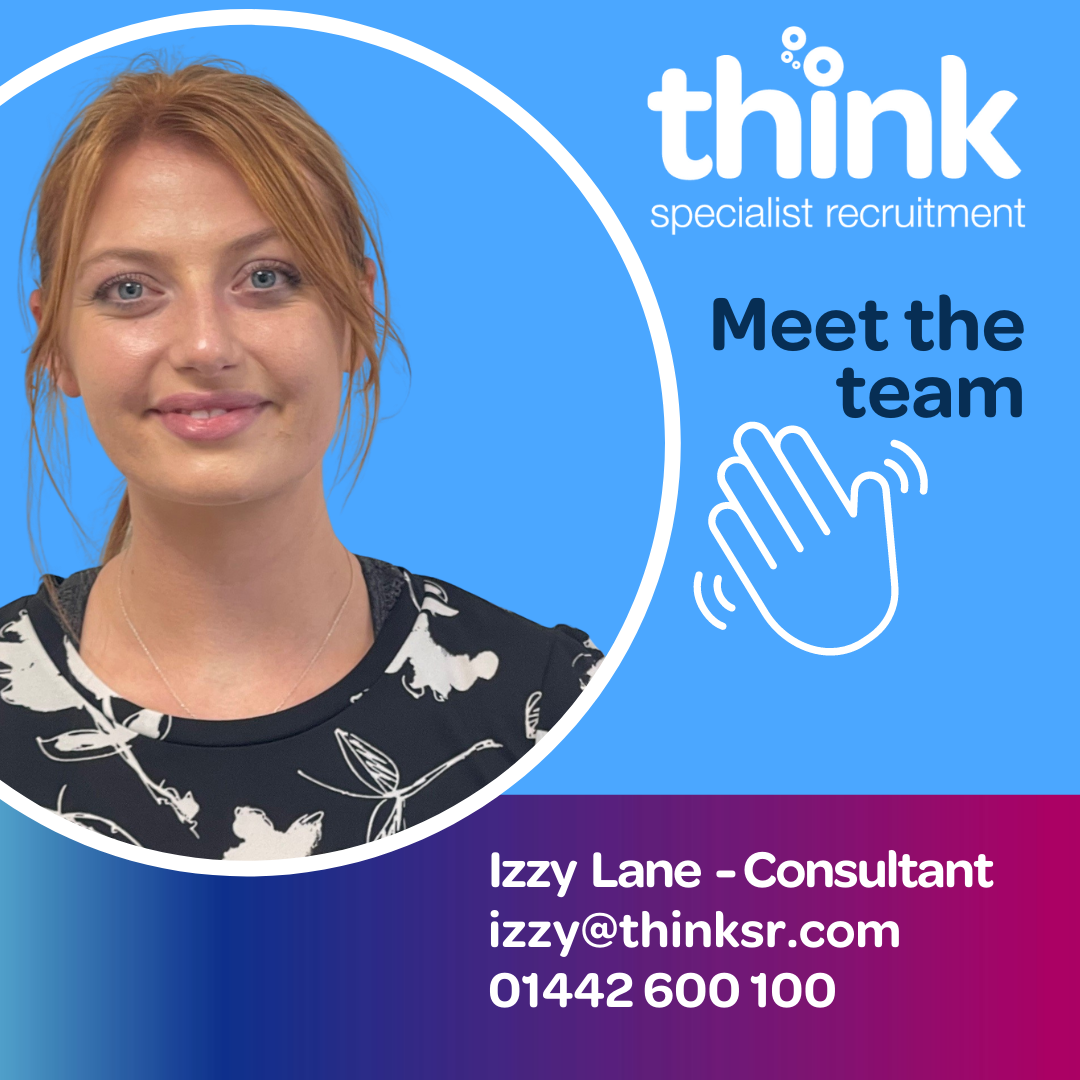 We are at week 7 of our 'Meet the Team' series of blogs. Izzy - one of our newest team members - is up this week.
Izzy has a strong background in delivering excellent customer service so fitted in perfectly to our team after her start at the end of September last year. Even better, she has recently been promoted from her inital role as a Resourcer to a Consultant, and has taken over permanent recruitment for Hemel Hempstead and the surrounding areas. She will be working closely with Bobby Collins to provide a fantastic service to clients and candidates across the local area. She loves a good Aperol spritz - preferably in the sunshine, so she'll defintely be celebrating her promotion with a few of those!
What area of the business do you work in?
I cover the Hemel Hempstead desk on a permanent basis.
Is there good career progression at Think?
Absolutely, I have learnt and grown so much within the last 10 months. There are so many opportunities with all the right support.
Why do you like working here?
A key factor for me is the team. I really enjoy coming into the office and look forward to seeing my colleagues! Everyone is so supportive!
Every job has highs and lows, so what are the best and worst bits of your job?
I love the feeling of getting a placement, delivering the news feels amazing everytime! Things don't always go your way and some of the times things fall through. Accepting that you can't win them all is definitely the worst part for me. However, the highs 100% outweigh the lows!
What are your ambitions for future?
Working hard to build the Hemel desk further by learning and developing my Business Development skills.
Finally, share a memorable moment from your career to date - a surprise or disaster!
So many in mind for this one! I had a lady turn up to an unplanned interview, I then spoke to my client and managed to get her scheduled in for an official interview. She then ended up getting the job!!
If you are looking for a role or looking to recruit in the Hemel area don't hesitate to give Izzy a call on 01442 531162 or drop her an email on [email protected] She would love to hear from you.
Share