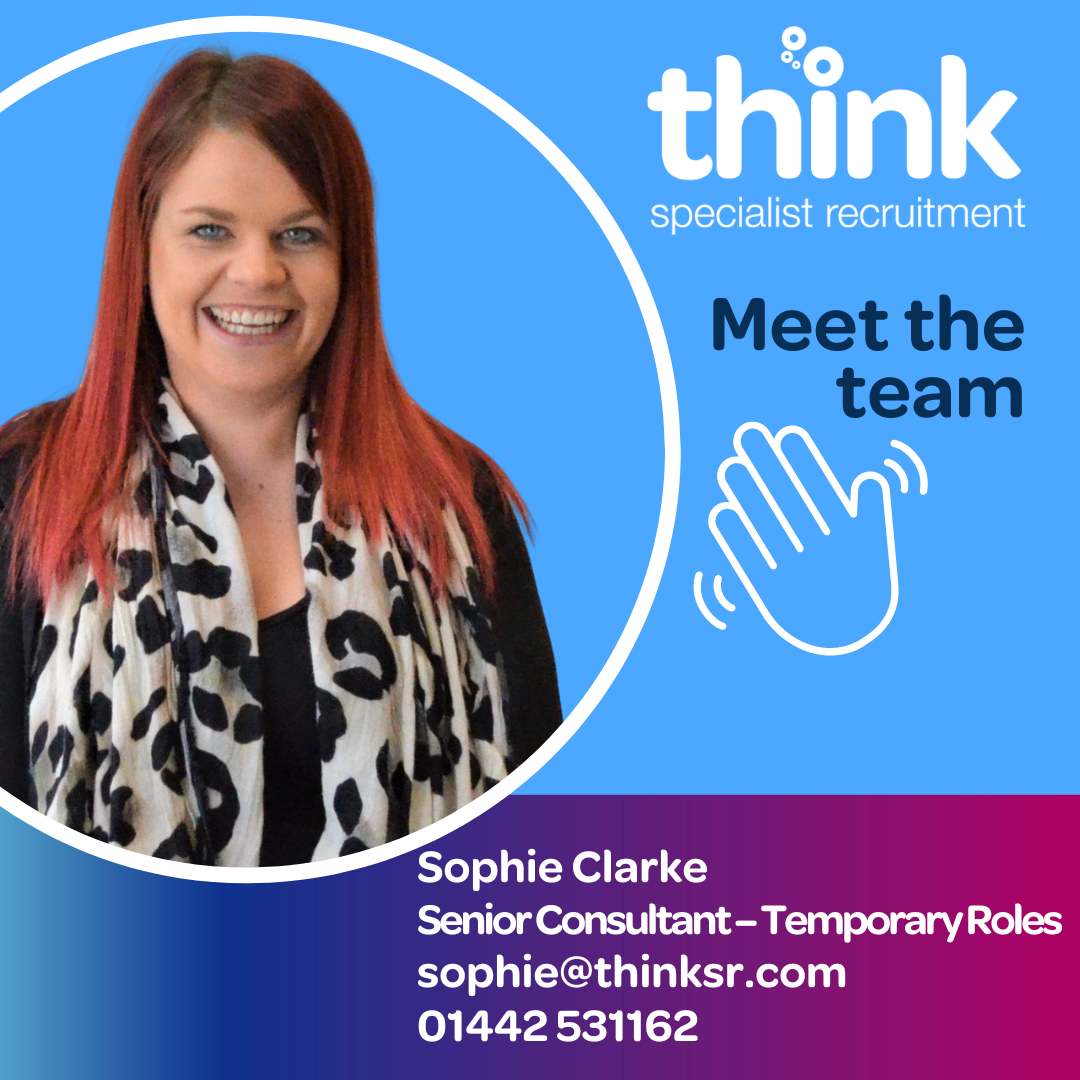 For week five of our 'Meet the Team' series of blogs, Sophie Clarke is telling us a bit more about herself...
Sophie has been with us over 4 years now! A seasoned recruiter, she has worked across a variety of sectors and focuses on our Business Support roles. She's a big Watford FC fan - despite their relegation this season and unlike them, due to her continued success here, she has recently been promoted to a Senior Consultant.
What area of the business do you work in?

I work on a permanent desk covering Watford, St Albans and surrounding areas. I look after our business support roles which cover everything from PA and Secretarial, Admin and Customer Service, through to Marketing and IT Support.
Is there good career progression at Think?

Yes I think there is. I have personally progressed to Senior Consultant 😊
Why do you like working here?

My favourite thing about working here is working within a really great team. Everyone is different, but we are a very close team that work well together. I also love our quarterly incentive, it's always a great time to have some down time with everyone!
Every job has highs and lows, so what are the best and worst bits of your job?

The best bits are having the opportunity to work with some fantastic clients and candidates, and getting the opportunity to meet new people every day! The worst bit for me is telling candidates they're unsuccessful for opportunities they've interviewed for, but I'm glad I have the opportunity to continue to work with them to find the right position for them.
What are your ambitions for future?

I am glad to have grown with the company, as we've had continued and consistent success. I would like to continue to develop here as it's a great place to work.
Finally, share a memorable moment from your career to date - a surprise or disaster!
I was working with a candidate who was interviewing for a position in Watford, I kept calling her by the wrong surname (which was the name of an old client). I then came across a lady with the name I kept using by mistake, and managed to place her too!
If you are looking for a role or looking to recruit in the Watford area don't hesitate to give Sophie a call on 01442 531162 or drop her an email on [email protected] She would love to hear from you.
Share