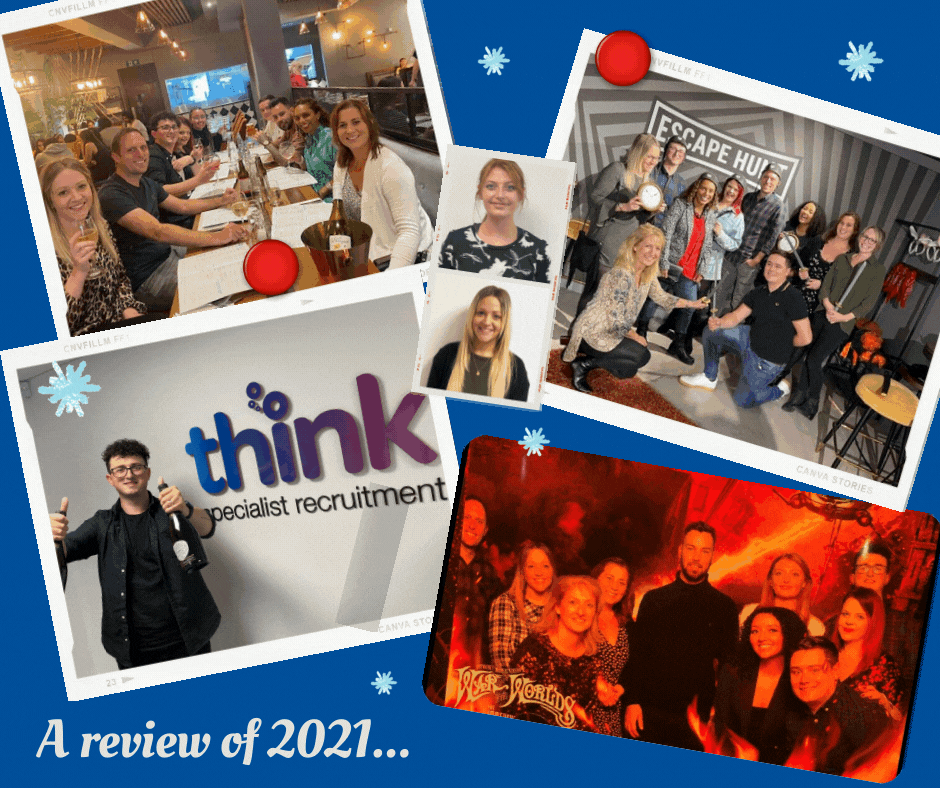 Well it's safe to say that my 2021 review will be far more positive than 2020's. This time last year I was wondering what 2021 would bring and felt nervous about how busy we would be. It's safe to say that despite more unknowns going into the Christmas break I remain cautiously optimistic for what next year will bring!
2021 started under lockdown restrictions and, for us, with far less confirmed placements in January than a 'normal' year thanks to a very slow end to 2020. However, the market quickly picked up and we saw a drastic increase in the number of vacancies registered with us from January onwards, which thankfully has continued throughout the year.
Usually, I'm writing this in the midst of a mid-December slowdown but this year the vacancies just keep on coming!
As has been reported in the media, there has been a skills shortage across a lot of sectors in 2021 and the increased demand for staff has led to a fight for talent. Clients are struggling to recruit directly which has meant recruitment agency services are being relied upon more than ever during my 17 year recruitment career.
Salaries have increased at a record pace as businesses adapt to retain their existing teams and secure new staff, whilst flexible working has continued to be a key demand for candidates entering the job market.
What has this meant for us? A lot of vacancies have taken longer to fill than it would have in previous years, candidates are being snapped up quicker and have more options than ever before and we have had to invest more resources into candidate generation then in the previous 10 years Think Specialist Recruitment has been running.
But we have had a fantastic, record-breaking year and I am incredibly thankful for the hard work our team have put in over another challenging 12 month period.
We were pleased to welcome back Alex Montgomery (nee Ellis) in June this year. Initially coming back to help with the sourcing and management of our candidate pool, Alex has now moved into our Accountancy & Finance team to work on permanent vacancies alongside Clare and Craig – welcome back Alex!
The Summer also saw a well-deserved promotion for Bobby Collins who has reaped the rewards of his hard work over 4+ years with the business and smashed company and personal records consistently across the year – well done Bobby!
Our staffing has remained stable in 2021. We have had zero leavers and recently increased our headcount with the recruitment of a new Trainee Recruitment Consultant and Resourcer who has made a fantastic start to life at Think since she joined in September – welcome Izzy Lane!
It is pleasing that we have retained our team and I know they all have the skills, experience, and determination to hit their targets next year. We roll out our 2022 reward scheme in January where we will be offering our staff the opportunity to share in the company's success.
We got back to planning and attending our Quarterly Incentives in the Summer too which we are hoping can continue into next year – fingers crossed! Our Christmas party was slightly different this year too with a trip to the War of the Worlds immersive experience in London.
If there are any Recruiters out there who might be interested in a change in 2022 and would like to hear more about what we offer here at Think, do get in touch – [email protected] – and I would be pleased to tell you more about the business.
I must say a huge "Thank You" to our fantastic clients – some of whom we have worked with for a long time and others who are new to Think this year – for your continued support and patience in what has been such a challenging year for generating candidates. Myself and the team are grateful for you placing your business with us and it means so much to a small, independent company like ours.
Thank you as well to all the candidates who have registered with us this year and those we have placed into permanent and temporary roles. Your commitment and hard work in representing us is really appreciated!
I hope that everybody has a fantastic, healthy, and well-deserved Christmas break and we look forward to working with you again next year.
Kind regards,
Chris
Share